All our hampers comes with personal thought, beautifully packaged and presented with Ribbons and personal message of your choice to suit the occasion, wether it's Birthday, Anniversary or any other personal celebration or special corporate event.



Our Hampers are of different ranges to suit individuals needs and budget.
What ever you chose be rest assured you are getting nothing less than the Best.
EXECUTIVE
GOLD
SILVER
BRONZE
Christmas Hamper
Food Hamper
Chocolate Hamper
Picnic Hamper
Vegetarians Hamper
Sweets Hamper
Themed Hamper
Luxury Hamper
Bath & Beauty
Non-Alcoholic
Gift Towers
Naughty gift Hamper
Valentine Gift Hamper
Easter Hamper
Brides Parent/Family gift (Nigerian Traditional Wedding)
Bespoke Corporate Gift Hampers
Ideal for Christmas or any corporate gift giving occasion, We can create unique Bespoke Hamper just for your business. We can take carefully selected gifts, gourmet goodies, wines or champagne from our range, to suit your budget, event or to support your marketing activity. We will pack them carefully in one of our hamper boxes and deliver direct to the recipient, or to you, with your message. The hampers can also include your logo and/or event branding. We can recommend the contents and help you chose a beautiful, bespoke hamper for someone special. Please call or email our customer services team to discuss your Corporate Bespoke Hampers.
Fruits and Flowers Hampers
We've aimed to create a modern alternative to the traditional concept of sending flowers or a fruit box. Our fruit and flower hampers are 21st century innovative twist on a beautiful human characteristics of wishing to celebrate a persons special occasion. What ever the occasion may be.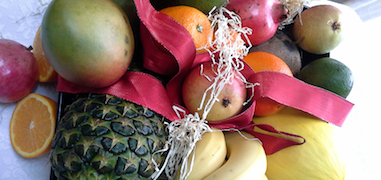 Baby Hampers
We put together and deliver a beautiful new baby gift hamper to help new parents celebrate their new arrival. All carefully source from Top brands.
Naughty Gift Hampers
If you're planning to get away with a lover for a seriously dirty weekend we can only hope you plan to take one of our equally naughty gift sets or gift boxes with you to turn the heat up and leave the mind in no doubt as to the body's intentions. Holidays are another one of those times when having a little set of not so wholesome goodies is imperative.
List of what to expect in the Hamper:
Naughty Hamper Selection
Enhancement cream for men
Spot on G-Spot stimulating Gel
Romantic vow for affectionate lover
Nipple & Clitoris stimulating gel
Nipple Tassels
Durex play sweet strawberry lubricant
Kinky vow for adventurous lover
Playful naked knickers or sexy body suit
Lace eye mask
Naughty Dice
Caressing feather
Massage Therapy